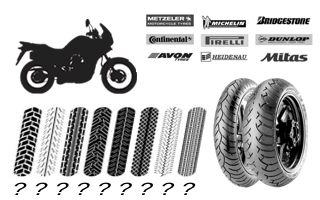 Sniegta šajā lapā informācija ir tikai jūsu informācijai. Jūs pilnībā atbrīvot myNETmoto no jebkādas atbildības saistībā ar, vai kā sekas, pretenzijas sevi un / vai jebkuras trešās personas par iespējamiem zaudējumiem nākamajos uz aprīkošanu ar riepu nav atļauta.
DUNLOP STREETSMART


Combining classic looks with modern technology, the new StreetSmart is ideal for older or classic bikes. Innovative Silica compound offers longer mileage and better wet performance. Ideal for lightweight and classic bikes - Stylish design - State of [...]
(iesk. PVN exkl. Piegāde)
BRIDGESTONE BT 45


This all-round sports bias tyre is for imported and re-imported bikes and offers the same basic performance as the BT-45. Ideal for the rider who seeks overall high-speed performance.
(iesk. PVN exkl. Piegāde)
DUNLOP K 205


(iesk. PVN exkl. Piegāde)