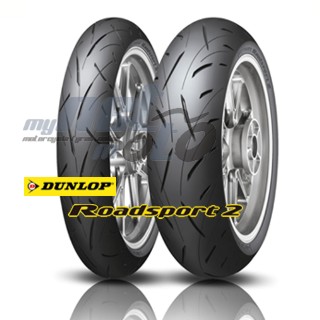 Dunlop Roadsport 2 is not available in Europe !!
DUNLOP ROADSPORT 2 jūs varat iegādāties un pasūtīt tiešsaistē lv.myNETmoto.com veikalā. Akcijas cenas ✓
Jūs atradīsit arī daudz plašas pieredzes ✓ Atsauksmes ✓ Atsauksmes ✓ Nobraukums ✓ Pārbaudiet ✓ šai motocikla riepai.
Technical Specifications

Izvēlēties zīmolu
DUNLOP
Riepu profils
ROADSPORT 2
Izvēlieties veidu
Sport /
Riepu izmērs
priekšējā riepa: 120/60 ZR17, 120/70 ZR17
aizmugurējā riepa: 150/60 R17, 160/60 ZR17, 180/55 ZR17, 190/50 ZR17, 190/55 ZR17, 200/55 ZR17
carcass
Tubeless / Radial /
Speed Index
W
Loadindex
55, 58, 66, 69, 73, 75, 78
Production Country
JP
SPORTMAX Roadsport 2 is based on the neutral handling of conventional products "SPORTMAX RoadSport", two-layer tread structure overlapping two types of compound up and down ("The performance of the COMPOUND-player") has been enhanced to improve life performance and grip performance.

Two types of surface layer compound with high grip performance and wear resistance performance and deep layer compound with increased heat generation function effectively, and it enhances life performance and grip performance and demonstrates stable grip performance until the end of tire wear.
In addition, new profiles and patterns utilizing DUNLOP'S unique "Chamber last tuning Technology" have enabled stable handling performance.
10.02.2020
Dunlop Roadsport 2 new 2019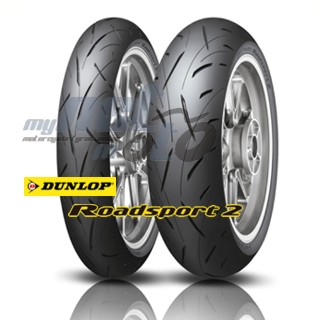 ---
10.11.2017
DUNLOP ROADSPORT 2 OE motorcycle tyre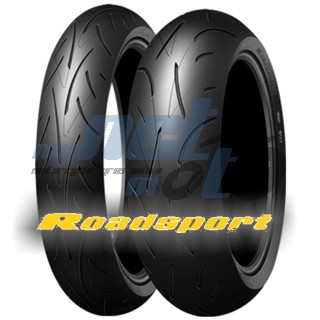 ---
Cena:
114.79 €
(iesk. PVN exkl. Piegāde)
Cena:
114.79 €
(iesk. PVN exkl. Piegāde)
Cena:
124.25

€
(iesk. PVN exkl. Piegāde)

Nav noliktavā.
Jau pasūtīts. Nav piegādes datuma

Nav noliktavā.
Jau pasūtīts. Nav piegādes datuma
Cena:
124.25 €
(iesk. PVN exkl. Piegāde)

Nav noliktavā.
Jau pasūtīts. Nav piegādes datuma

Nav noliktavā.
Jau pasūtīts. Nav piegādes datuma
Cena:
139.20 €
(iesk. PVN exkl. Piegāde)
Cena:
162.59 €
(iesk. PVN exkl. Piegāde)
Cena:
148.36 €
(iesk. PVN exkl. Piegāde)
Cena:
169.40 €
(iesk. PVN exkl. Piegāde)